Bow down to Sapa, seriously. This place stole our hearts. And managed to do so in literally 10 minutes.
We rode the rickety, smelly sleeper train to Sapa (somehow the cedar paneling shined a little brighter in their brochure) – we were in the last car and derailing seemed inevitable. Getting to the sleeper train was disastrous enough- someone lost the tickets, so the dude at Vietnam Backpacker's Hostel called the train station to warn them. We were running horribly late, stuck in Friday traffic, and the hostel told us to "go to Door 4 and find Miss Helen at Gate 17." How were we going to manage that? But Miss Helen appeared like an angel holding three tickets and escorting us to Train 3. Hallelujah.
We made it to Sapa around 6 AM. Nicole and I dropped our bags and went for a stroll. We didn't even reach the end of the block when a couple of tribal women pounced on us; the infamous Sapa Women, asking us where we were from and if we'd like bracelets… or scarves…or earrings. They were precious; stumpy and smiley, wrapped in bright tribal prints. They have this whole theory that if you buy from one of them it's rude not to buy from all of them, so I was guilt tripped into buying 15 bracelets within 10 minutes of being in Sapa.
The best saleswoman was Anna, who kept going, "Ahhh beautiful yes, what about for your mom? Your sister? Your friend? Your half-cousin twice removed?" through a gold-toothed smile. When she'd exhausted selling us jewelry, she asked if we'd like to do a trek or homestay with her and Mày. This peaked our interest, especially since Mày seemed like such a sweetheart. They made a great good-cop bad-cop team. Anna was 35 and had been selling stuff in Sapa for ten years- she was a respected (or perhaps feared) veteran who'd earned her turf. Anna runs Sapa. We made plans to meet tomorrow in front of our hostel at 8 AM.
I also made a pinky promise to Kia to buy something from her later. Horrible mistake. Nicole told me after-the-fact that she'd read online never to pinky promise a Sapa Woman. They take these incredibly seriously; stalking you until you fulfill it- one lady hissed "I'll cut your finger off!" at Silken.
Kia followed me around until I bought a scarf. Nicole was concerned about buying a (faux) North Face puffy coat, since Sapa was frigid AF. We'd become accustomed to SE Asian weather, and couldn't hang when temps dropped below 40. Nicole's a great bargain hunter. So great that we walked up and down the main drag a dozen times, visiting two-dozen stores and bartering at each one. Once Nicole got it down to $15, she'd thank them and leave- she only had $7 in her wallet. We began the search at 3 PM and finished after dinner. At least they serve mulled wine here.
On November 3rd, Nicole and I trekked into the foggy abyss with Anna and Mày. We veered off the road, down a muddy incline through the bamboo forest. This broke open to a breathtaking view of the rice paddies, scattered with huts and oxen. I took a picture, and took a tumble. My feet flew up with cartoonish drama, slapping my torso down into a puddle, caking my body and backpack with mud. Anna and Mày held our hands the whole way after that incident, but I still managed to fall more times. Meanwhile, Anna and Mày were trekking with the agility of mountain goats in their rubber sandals. Mày and Anna chatted with each other and us throughout the whole trek. We had the lovely ladies to ourselves, versus groups arranged through hotels or tour companies that were 20-people big, sharing 2 guides. Anna and Mày seemed like good friends, so we were shocked to learn they were from different villages and spoke different languages. Mày was married to Anna's younger brother, so they communicated to each other in a mix of Vietnamese, French, English, and local dialects. Anna and Mày each dabble in 4-5 languages, learned from tourists, whereas Nicole and I only know enough Spanish to order a beer.
We stopped at Anna's home in the center of Lao Chai for a home cooked meal prepared by Anna and Mày. Anna's children and husband hung around as Anna forced us to eat helping after helping. "I'm full" doesn't seem to translate to Vietnamese. Its deliciousness put us in a serious food coma. I couldn't keep my eyes open. But we had to trek on.
But wait! Wouldn't we like to see their kids in school? They herded us into a schoolyard, into a classroom, so we could wave and snap pictures. The teacher didn't flinch, whereas in America we would've signaled an intruder drill, "Mr. Eagle report to the office!"
Onwards and upwards we trekked, through the levels and levels of rice paddies. Their all-natural, irrigation network system is so impressive, so beautiful. We finally reached Mày's home, where her three children were running around and acting out movie scenes. Mày managed to keep her dirt-floor hut cleaner than my LA apartment. She made a fire in the ground and cooked dinner in one pan over the flames. Watching her cook, we finally figured out why Vietnamese food is so amazing: they add cups of sugar to every dish, even "plain" veggies.
After our sixth helping of dinner, Mày broke out the "Happy Water." "We're going to drink all of that?" asked Nicole. Mày nodded and laughed her infectious chuckle. Bii-how! (cheers or drink in Hmong). Yeeew-ouch, that homemade rice wine didn't go down so smoothly. But the locals have a solution. After Bii-How, you shout Bii-Na! (eat) and take a bite of food. Nicole, Mày, and I had fragmented "girl talk" as Mày's voice crept higher and higher. Her goal was to get us drunk so we'd be able to sleep on the wooden bed. It worked. Mày climbed into bed with her children while Nicole and I spooned for a solid 12 hours.
Their friend Mimi popped in to say "wassup good morning," but we were still out cold. We finally woke up to some disgruntled rooster. Mày prepared us a hot breakfast while her children continued to act-out movie scenes. Then she led us through the rice paddies, through Lao Chai, up to the main road. We memorized her face as we sadly hugged goodbye and trudged up the road. We made it 10 minutes before an airport shuttle van took pity on us, and offered us drenched-in-sweat-damsels-in-distress a ride to Sapa.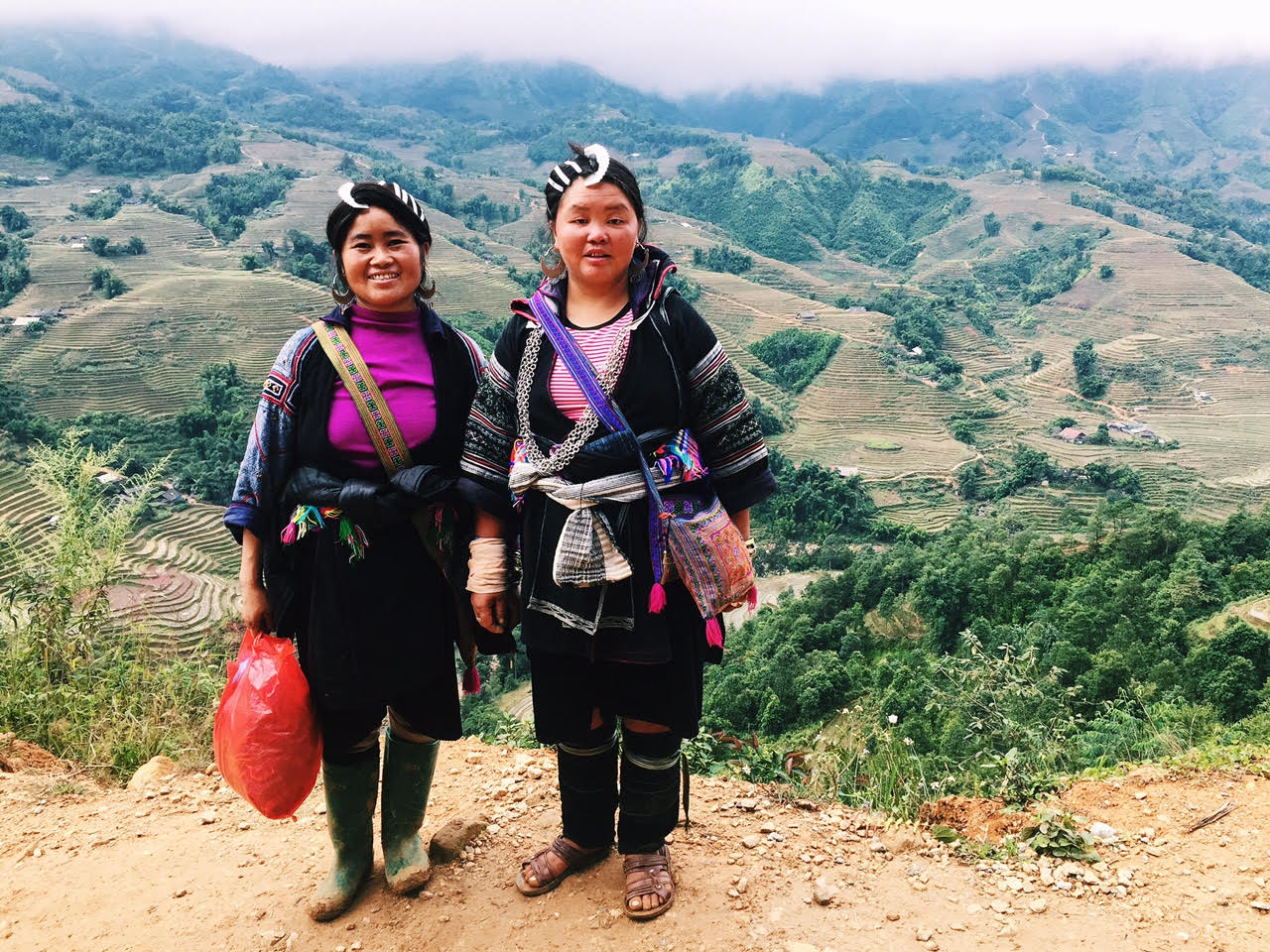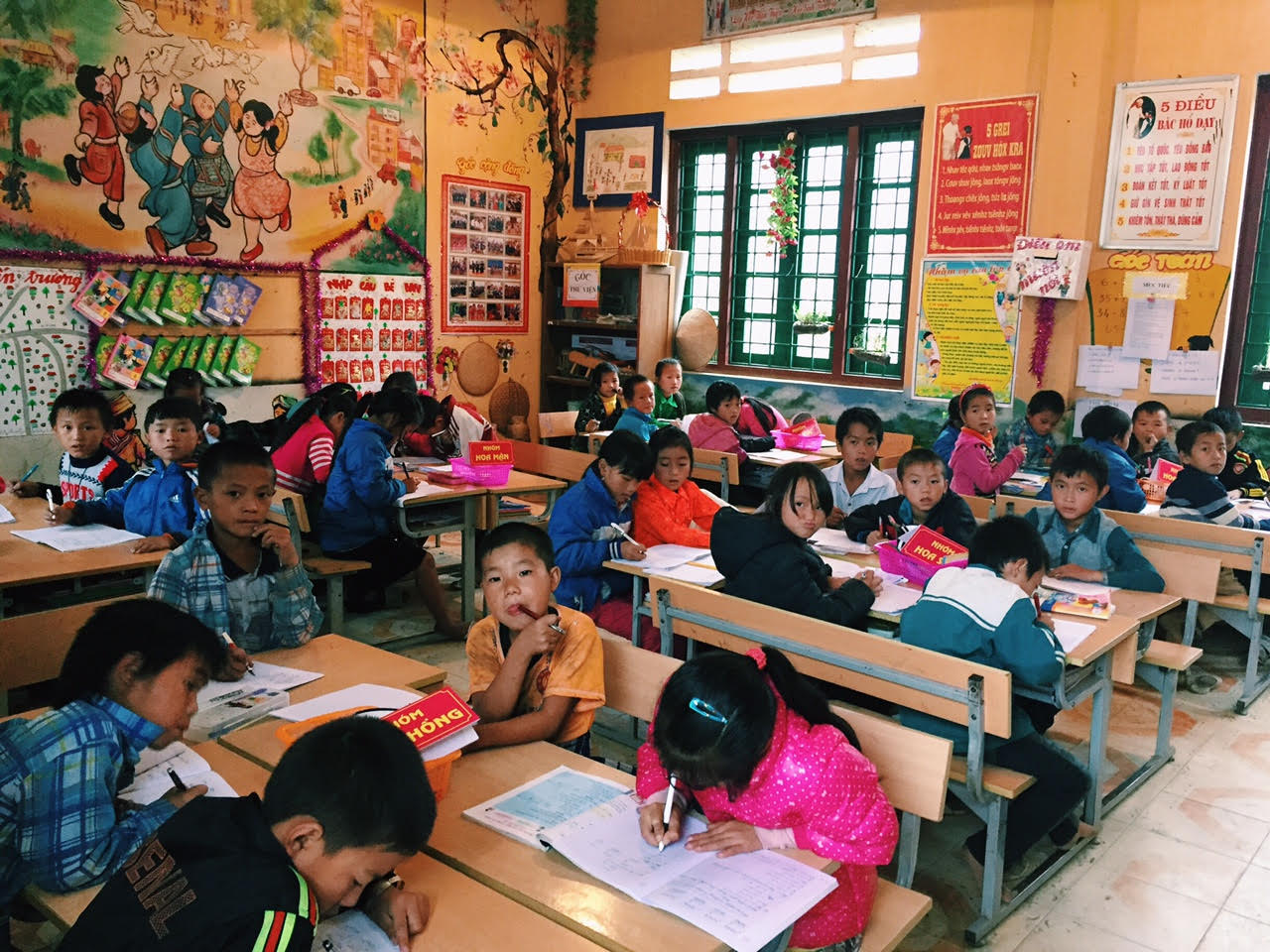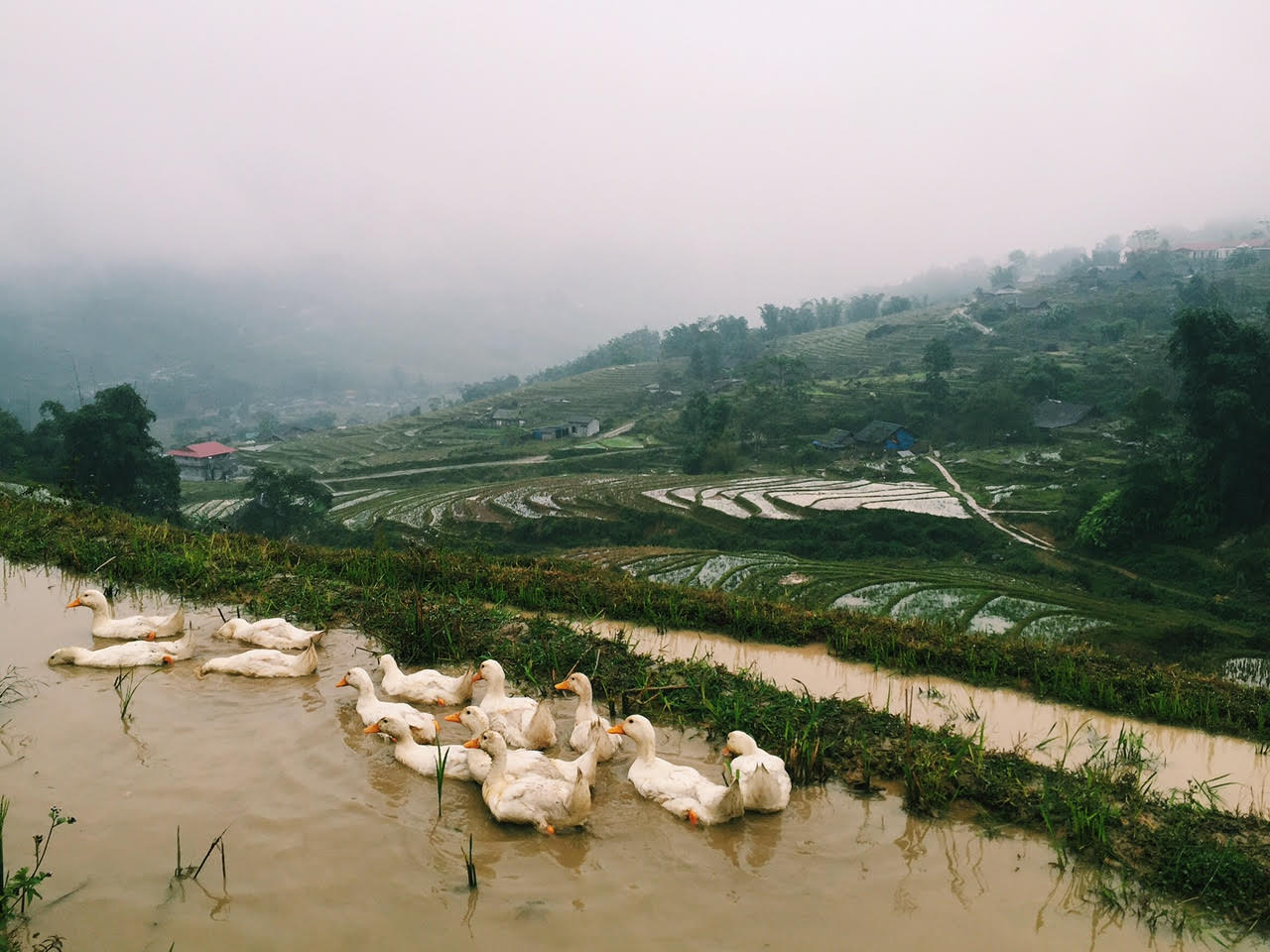 Back at the hostel we were reunited with Daniel from London, who seemed even more distressed. He'd worn white linen pants to his homestay. Daniel prefers Uber to the tube, and the tube to walking. But he survived the trek so we could hug and exchange stories before he boarded the 24-hour bus to Laos.
We were also reunited with Silken, and decided she must experience a homestay. We'd been approached with another homestay offer our first day, by a woman named Chao. She was from a different village and just innocently offered us a homestay, instead of trying to sell us bunches of bracelets. We gave Chao a ring-a-ding and met her at Sapa's church so we could arrange our trek.
12 hours later, we were huffing and puffing behind Chao as she led us up a mountain. She walked gracefully with her 10-month-old attached to her back. We fell in love with Chao early into our trek when an overzealous 40-something bald fitness guy zoomed past us, up the mountain. Chao was baffled and shouted, "Hey old man! Old man where you going, old man?!?"
Somehow Chao sensed Silken's obsession with Asian babies, and offered to let Silken carry Baby Lin for most of the hike. Dreams do come true. Silken was in baby heaven. Nicole was in awe of our heavenly surroundings, pulled straight from the pages of a fairy tale. Children chased each other in grassy meadows, high above the clouds. I was in pig heaven. Wild pigs were everywhere! Pink pigs! Brown pigs! Fat pigs! BABY PIGS! So many baby pigs!! We finally made it over the gorgeous mountains to Chao's home, nestled on a compound next to a magical waterfall. And at the waterfall there were more pigs! We chilled on a rock, watching baby pigs bathe in the bubbling creek. I'd never been happier or more in love. I snorted, hoping to start some communication with the piggies. A baby pig looked me in the eye and smiled. Dreams do come true people, they really come true. I can return to America now.
At Chao's home we got to hang out with three or four generations, gathered around doing embroidery. The eldest had beautiful eyes peeping out of deep wrinkles. Rectangular reading glasses were propped on her nose. The youngest was a four-year-old boy who enjoyed treating my body like a jungle gym. He'd climb up my torso and slide down my thighs like I was the greatest rollercoaster in the world. Chao and her family didn't have a TV or much else, breeding amazing imaginations. After seventeen servings of rice, eggs, and veggies, it was time for homemade "Happy Water" once again.
"Do you know the Beatles?" Silken inquired. She probably asks if people like the Beatles more often than asking their name. Chao and her husband didn't know the Beatles, and thought we were asking them to put on some music. Both of them whipped out their flip-phones and took turns playing 30-second ringtones. She also created her own tunes with a Hmong harmonica-eqsue instrument. It was just two pieces of metal, but by moving her lips to the vibrations Chao could play entire songs. When her lips tired, Chao used cellular data to show us Vietnamese music videos, but her hubby kept interrupting us with more "Happy Water" shots- someone's got the right idea. Well the apple doesn't fall far from the tree because the hubby's father walked in. He wore a suit. He radiated wisdom and swagger. He carried a bamboo bong full of homegrown herbs. This man was a full-blown boss.
Chao woke us up with honey-banana crepes while her sister served us coffee. We assumed we'd head straight back to Sapa like our first homestay, but Chao had ambitious plans for us. Chao led us down her mountain, through acres of rice paddies, to a waterfall. Chao's only two or three years older than us, so it was easy to relate. Along the way we chatted like old friends; we had a strong language barrier but still managed to create inside jokes. Our favorite: "No money, no honey, no banana, no boom boom!" got Chao keeling over with laughter every time.
Chao lounged with us at the waterfall, prepared us noodles for lunch, and rallied a motorbike caravan to get us home. I was lucky enough to ride on a bike behind her husband, in front of Chao with Baby Lin strapped on her back. I was in between the most precious humans on earth, riding through the planet's most gorgeous green mountains.
Our goodbye was difficult, and didn't last long. We made excuses to keep seeing Chao, including giving her printed-out photos from our homestay and our faux North Faces. We said goodbye six times, each one getting tougher. But the toughest goodbye for me was Anna.
Mimi warned Anna that our bus was leaving at 4 PM that day. Anna typically sells goods in Sapa every single day, but had stayed home today. Well, after Mimi spotted me buying five quilts (Don't wanna talk about it. Get excited for my Sapa-themed loft) she'd called Anna to tattle on me for a) taking business elsewhere, and b) leaving Sapa. At 4:00 on the nose, Anna and Mimi were waiting at the bus stop. They motioned for me to get off the bus (everyone's like, "those are your friends?") so we could hug farewell. They made me snap a selfie so I'd remember them forever, as well as pinky-promise I'd return someday. So it looks like I'm going back.
We were all pretty bummed on the ride back to Hanoi, when my phone rang- Chao! Chao was drinking Happy Water with new guests, but really missed us. She called to tell us she loved us and would remember us forever. We missed Chao even more. It took every inch of willpower not to board a bus back to Sapa. Becoming friends with Chao changed our view on life.
Other travelers had remarked, "beware of the Sapa Women." Online we'd read cautions against engaging in friendly conversation with the women, since they'd eventually "force" you to buy something. Well, other travelers hadn't given these women a fair chance. Everyday, they trek 7 miles into Sapa to sell handmade goods for 10 hours. They're young- often in their 20s- supporting several children by making and selling tribal treasures. And they talk to tourists because they're genuinely interested, want to learn a new language, and are maybe a little bored. They've never been to Hanoi; they've never left Sapa. And that's okay, because they are happy and fulfilled. Their happiness radiates from within as they continue to put others first. We felt more welcomed in Sapa than we usually do in America. Getting to spend time with Anna, Máy, and Chao shattered everything we thought we knew. They gave us perspective, as well as more faith in humanity.
Much Love,
Annie